Special Events at Caddis
Throughout the year Caddis holds special events at both tasting locations, Livermore and Sonoma. Join our e-mail list to stay in the know or check back to this page for updates.
Livermore Club members: We will be open at our Livermore location for our 4th quarter Livermore wine club release November 19th and 20th! This release will include our vineyard designate 2019 Thatcher Bay Cabernet Sauvignon. Live music on the 19th with The Harkenbacks!
Sonoma members: Next Sonoma club release will be November 11th and will include our new 2021 Sonoma Coast Chardonnay (90 points WE) as well as our 2019 Better Together and 2019 Thatcher Bay Vineyard Cabernet Sauvignon!! Make a reservation at our Sonoma location to enoy a special club flight from November 11th - November 20th to taste the wines included in your current release.
December 2022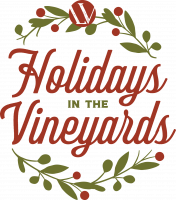 Our livermore location will be open for this years Holidays in the Vineyards!
Saturday, December 3, 2022 - Sunday, December 4, 2022 (12 - 4:30pm)
Join us for a festive tasting of some of our exclusive small lot wines! Bring a quality unrwapped toy for toys for tots and we will waive your tasting fee!